"Better Data. Better Policy. Better Action."
In November 2019, the technical unit of Infectious Hazard Management in the WHO Regional Office for EMR convened the fifth meeting of EMARIS, in Casablanca, Morocco. Centred on the theme of 'better data, better policy, better action', the meeting was designed to support the growing focus on data-driven public health policy-making.
The meeting was held alongside the second Scientific Conference on Acute Respiratory Infections. During the combined meeting, participants shared their achievements and challenges, presented evidence and best practices and showcased their latest research findings on influenza and other respiratory viruses.
Over four days of presentation and discussion, the meeting specifically aimed to:
review the progress and challenges in influenza surveillance in the region;
enable information-exchange on influenza and other respiratory diseases;
share evidence and best practices on using surveillance data to estimate influenza burdens, assess severity and detect outbreaks;
consider how surveillance data can drive evidence-based policies and practice;
share scientific achievements and research findings; and
facilitate the interaction of researchers, experts and policy-makers.
Presentations and discussions were split across nine themes, covering topics like detecting respiratory infections, estimating influenza burdens, preventative action and outbreak response. The agenda also included 50 oral and poster presentations on the latest research findings as well as 46 expert presentations and four skills-building workshops.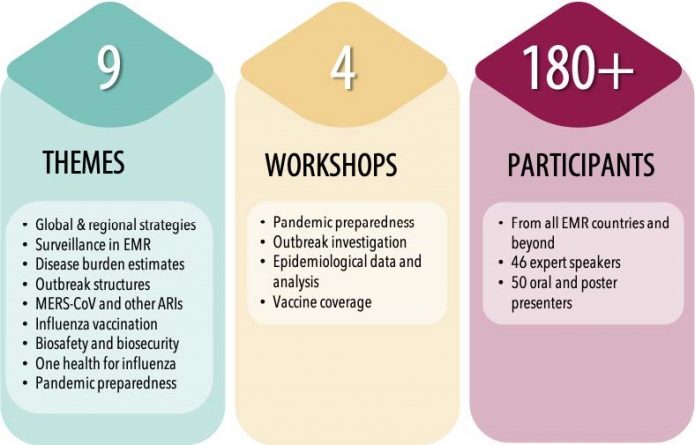 Articles about EMARIS 2019 conference can be found here.